An unusually wet summer has done nothing to dampen Manly's upmarket housing market with a bottom-up rebuild on Fairy Bower selling for over $20 million.
The sale kicks off Sydney's $20m+ trophy home market, which is typically centered on the eastern suburbs' harborside suburbs, but last year included the waterfront suburbs Sydney seashores such as Tamarama, Bronte and now Manly.
The exact sale price remains unknown, given the confidentiality agreements attached to the deal, but the Catholic Church's lease was sold by Asian equity expert Andrew Swan, investment manager Man GLG, the British investment giant Man Group.
The 1,700 square meter property on the beachfront reserve at Shelly Beach has more than doubled in value since 2017 when it last traded for around $10 million with a DA to demolish the house to make way for three separate residences on the title.
Last year, Mr. Swan submitted a new DA for a unique residence designed by Campbell Architecture with a swimming pool and landscaped gardens at a cost of $6.5 million, but rather than pursue the DA, he instead elected to sell and move to Manly's North Steyne.
In September last year, Mr Swan bought a penthouse in North Steyne for $10.7million through agent David Murphy just days before it went up for auction. More recently, he sold his apartment in the same building for $5.4 million.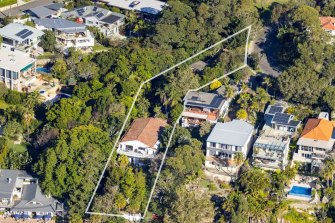 The former head of Asian equities at US investment giant BlackRock joined MAN Group in mid-2020, taking on the role of head of Asia excluding Japanese equities.
Fairy Bower's sale tops Manly's previous high of $17.5million, set by the beachside reserve home just doors down when it was sold by outdoor advertising boss Ray Balcomb and his wife Julia in 2019.